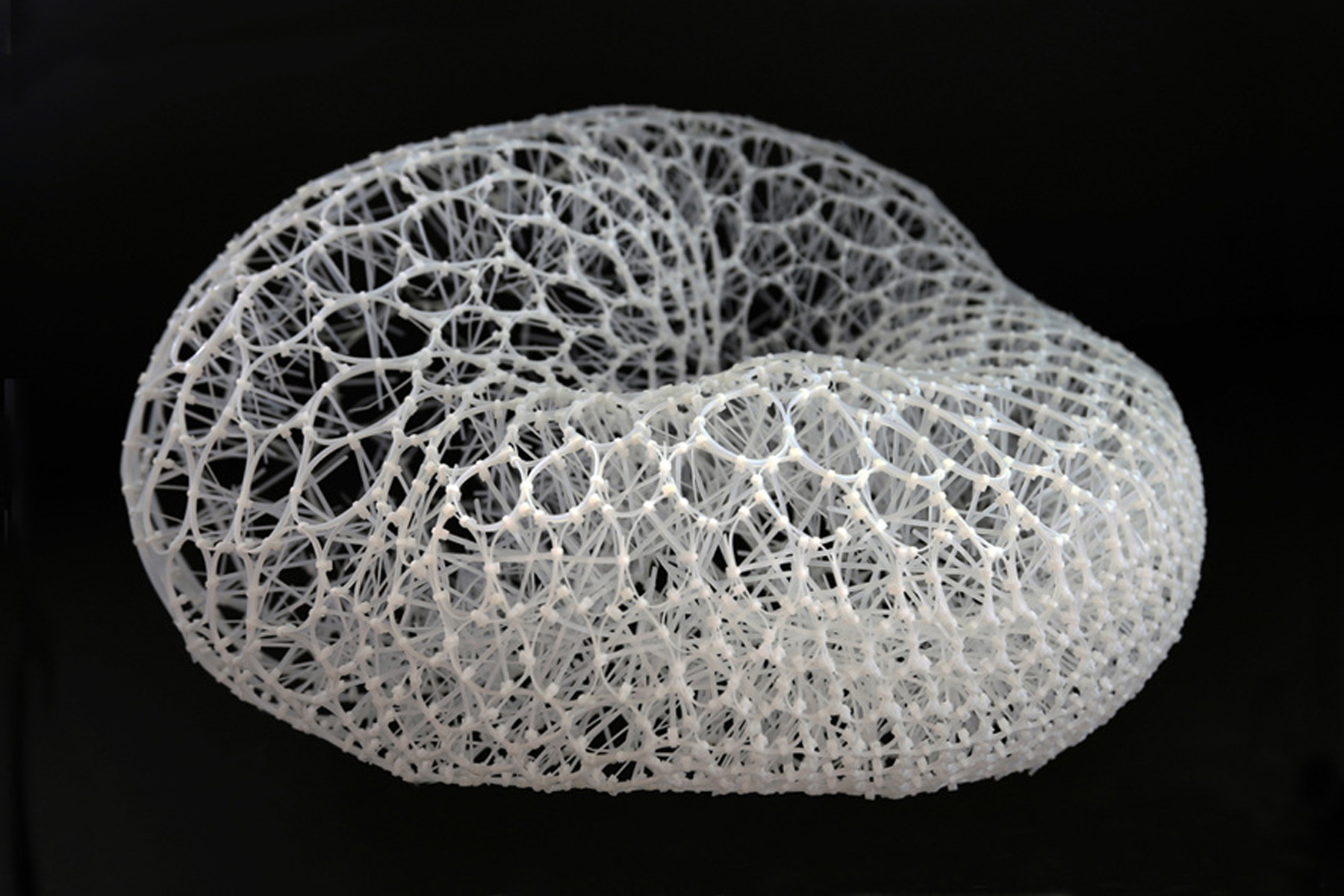 SPRING STROLL
MARCH 23 - may 5, 2018
MARCIE MILLER GROSS
MILA LIBMAN
EMILIO MALDONADO
SUI PARK
JOHN SYNER
OPENING Reception: FRIDAY, MARCH 23, 6:00 - 8:00 PM
Pentimenti Gallery welcomes the spring season with the work of five artists for the group exhibition Spring Stroll.
A time of renewal and rejuvenation, vibrant colors, and the buzz of new possibilities are on full display in this exhibition. It presents viewers an invitation to take time to enjoy their surroundings and simply be.
MARCIE MILLER GROSS
The work of Marcie Miller Gross is based around ideas of repetition, mass and void, physicality and weight, and compression and release. Informed by repetitious activity and simple gestures of the hand, such as folding, stacking and cutting, she uses industrial materials with which she has an 'intimate visceral connection' to expound upon simple, geometric form, while commenting on the separation between industrial minimalism and human intimacy.
Marcie Miller Gross received her BFA from University of Kansas, with Post Graduate Studies at Kansas City Art Institute, and received an MFA from Cranbrook Academy of Art. Her work has been exhibited at Mid-America Arts Alliance, Kansas City, MO; Rockhurst University, Kansas City, MO; Belger Arts Center, Kansas City, MO; Studios Inc., Kansas City, MO; GlogauAIR, Berlin, Germany; Bemis Center for Contemporary Art, Omaha, NE; H & R Block Artspace, Kansas City, MO; National Museum of Women in the Arts, Kansas City, MO; Jewish Museum of Contemporary Art, Overland Park, KS; Kunsthal Charlottenborg, Copenhagen, Denmark; Beach Museum of Art, Manhattan, KS; Kansas State University, Manhattan, KS; Nevada Museum of Art, Reno, NV; Cranbrook Art Museum, Bloomfield Hills, MI; Daum Museum of Contemporary Art, Sedalia, MO; among others.
MILA LIBMAN
Libman's works on paper consider landscape as both abstraction and representation. Photorealistic from a distance, their scale allows the viewer to be immersed in the abstraction of natural patterns upon closer inspection.
Mila Libman studied graphic design at Montclair State University and continued her art training at the New York Studio School. She was awarded The Ellen Battell Stoeckel Fellowship, the Elizabeth Canfield Hicks Award and received her MFA from Yale University. Mila's work has been exhibited at Berkeley Art Center, Berkeley, CA; San Jose Institute of Contemporary Art, San Jose, CA; Los Altos Museum, Los Altos, CA; among others.
EMILIO MALDONADO
Emilio Maldonado creates objects using materials that reference memories he has of his upbringing in the Dominican Republic. With his work, Maldonado 'strives to create formats that start conversations that travel between the art sphere and the social realm' while bringing to mind topics such as consumerism, waste and the impact it has on our environment.
Emilio Maldonado received his BFA from the School of Plastic Arts of Puerto Rico in San Juan and an MFA from Savannah College of Art & Design. His work has been exhibited at Webster University, Saint Louis, MO; Savannah College of Art & Desing, Savannah, GA; 27th Santo Domingo Visual Arts Biennial, Modern Arts Museum, Santo Domingo, Dominican Republic; Ivy Tech John Waldron Arts Center, Bloomington, IN; University of North Carolina, Greensboro, NC; Modern Art Museum, Santo Domingo, Dominican Republic; among others.
SUI PARK
Sui Park constructs 3-dimensional flexible organic forms made using mass-produced industrial materials, in particular, Monofilament and Cable Ties. She says of the work, "I want to bring to our attention the moments that nature allows us to find and look back. I present nature in abstract porous ways so that they can be filled with our moments."
Park has an MFA in Fiber Arts and a BFA from the Ewha Women's University in Seoul, South Korea. She also has a Masters in Design in Interior Architecture from the Rhode Island School of Design. She has exhibited at the Korean Cultural Center, Embassy of the Republic of Korea, Washington, DC; Platform-L Contemporary Art Center, Seoul, Korea; Kingsborough Community College, City University of New York, Brooklyn, NY; CHASHAMA, New York, NY; The National Taiwan Craft Research and Development Institute, Nantow, Taiwan RC; Peters Valley Craft School, Layton, NJ; Wayne State University, Detroit, MI; Long Beach Island Foundation of Arts and Sciences, Long Beach Township, NJ; Catskill Art Society, Livingston Manor, NY; Rockland Center for the Arts, West Nyack, NY; Bartow-Pell Mansion Museum and Gardens, Bronx, NY; Hunterdon Art Museum, Clinton, NJ; Washington Project for the Arts, Arlington, VA; Katonah Museum of Art, Katonah, NY; among others. Her work can be found in several private and public collections including the Jordan Schnitzer Museum of Art, Eugene, OR.
JOHN SYNER
John Syner's paintings are composed of systematically randomized geometric forms. After breaking down a 'perfect' golden ratio-based grid into its individual shapes, he then allows the chaotic forces of life to be imposed upon each form. Amplified by the angle of view and variations in lighting, each piece is experienced in constant fluctuation.
John Syner received his BA from Tyler School of Art in Philadelphia, PA. His work has been shown at the Philadelphia Sketch Club, POST, WOA Gallery, and Temple University in Philadelphia, PA, among others. His works are in private collections across the US.
For all inquiries, please contact Pentimenti Gallery at mail@pentimenti.com or +1 215.625.9990.